Greenwich Analytica Applauds Cohee
5th grader places second in middle school dominated World Geography Bee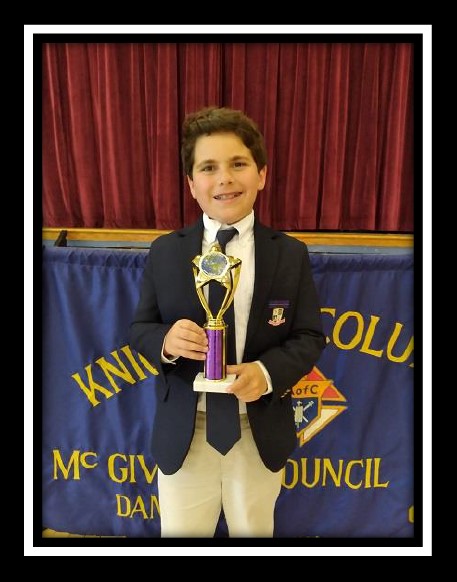 Congratulations to William Cohee Jr on capturing second place honors in the Knights of Columbus World Geography Bee. The Bee took place on Saturday May 14th at St. Joseph's School in Danbury, CT. William outlasted a field of seventeen delegates from eight regional Catholic schools to force a final round showdown between himself and an eighth grader from St. Gregory the Great School who ultimately notched the coveted first place prize. A humbled William congratulated the victor with a firm handshake.

William was one of three distinguished students selected to represent the Greenwich Catholic School delegation. In round two of the Bee, William stunned the scoring panel and audience members alike when in a bold display of European Geography mastery, he correctly named all eight countries bordering France without a map – the only Bee participant to do so.

For his remarkable achievement, William was awarded a trophy and a check for $50. William's strong command of World Geography also garnered another trophy for Greenwich Catholic School. A seventh grader finished second back in 2016. William became the first fifth grader from the school to make it into the final round of the Bee.

William was also recently recognized as Student of the Month for April by best personifying the Gospel Value of Peace. He also received high marks for his entry into the Science Fair – "Do Video Games Rot your Brain". Despite a growing body of evidence suggesting extensive gaming may shrink parts of the human brain, William concluded the science isn't settled and much more data needs to be collected.

When asked if abstaining from video game play the day of the Bee had any influence on his robust performance, a grinning William was terse in retort – "No comment".

Congratulations! Well done, William!!